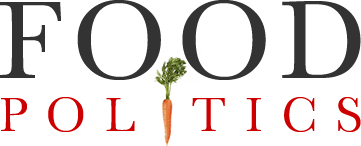 by Marion Nestle
How the GMO industry gets journalists to buy its messages
Monsanto's corporate behavior has been so counterproductive that it has damaged the reputation of the entire food biotechnology industry (I document this in Safe Food: The Politics of Food Safety).
What to do?
How about convincing journalists that food biotechnology is the solution to the world's food problems and that any criticism of it is a critique of science in the same category as climate-change denial (as I told Thacker).
The journalist Paul Thacker explains that strategy in an article in today's Progressive.
In recent months, media outlets have reported on a disturbing trend of corporate-sponsored journalism. The British Medical Journal exposed a multiyear campaign by Coca-Cola to influence reporters covering obesity by secretly funding journalism conferences at the University of Colorado. The watchdog group Health News Review reported that two journalism professors at the University of Kansas asked more than 1,100 health-care reporters about their views on opioids in a survey that was funded, in part, by the Center for Practical Bioethics, a group the U.S. Senate Finance Committee investigated for its ties to opioid manufacturers…Hints of the biotech industry's media tactics have leaked from court cases filed against Monsanto alleging glyphosate causes cancer. Several filings reference internal Monsanto documents that describe the company's social media strategy called "Let Nothing Go"—a program in which individuals who appear to have no connection to the industry rapidly respond to negative social media posts regarding Monsanto, GMOs, and agrichemicals.
His article describes the fierce industry pushback against anyone who raises questions about food biotechnology.
I know about that pushback firsthand.  That's why this site no longer accepts comments.
We need open discussion about issues related to food biotechnology.  This article is a good place to begin.