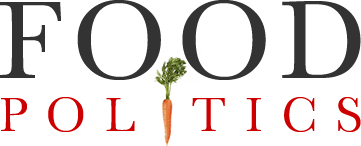 by Marion Nestle
The fight over non-milk "milk": the dairy industry plus FDA vs. soy producers and USDA
All those non-milk "milks' in the dairy section—soy, almond, cashew, hazelnut, pumpkin seed, flax, hemp, coconut—make the dairy industry unhappy.  Milk says the FDA, is the "lacteal secretion" from cows.
Government agencies can't agree; the USDA wants to help soybean farmers and favors selling soy milk as milk.
This dispute, obviously, is about marketing advantage.
Now Food Chemical News has a nifty investigative report on the fight between USDA and FDA over soymilk in the 2015 Dietary Guidelines.
The Good Food Institute filed a FOIA request and got 1500 pages of emails dating from 2011.
The USDA likes "soymilk:" everyone knows what it is.
The FDA prefers "fortified soy beverage" to indicate that the soy product does not have the same nutrient composition as cow's milk.
This marketing dispute involves lawsuits, petitions, and more, according to the Associated Press account.
As I've written earlier, this is about market share.  Let them fight it out.
In the meantime, I don't have any trouble telling which is which, and I'll bet you don't either.