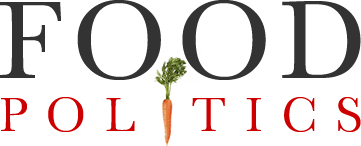 by Marion Nestle
Burning question: are almond and soy "milks" milk?
Scott Gottlieb, Commissioner of the FDA, says his agency will take up the vexing question of what to call "milks" made from soy, almonds, and other legumes and nuts.
If you look at our standards of identity, there is a reference … to a lactating animal," Gottlieb said during an interview at the POLITICO Pro Summit. "An almond doesn't lactate, I will confess. So the question becomes, 'Have we been enforcing the standard of identity?' And the answer is probably not."
The dairy industry does not want these products called "milk" (see discussion of the "war over soy milk," in the New Republic).  It argues that they do not meet the standard of identity for milk, but also that they are less nutritious.
The Good Food Institute, which promotes plant-based meat, dairy and egg substitutes, petitioned FDA to set some rules for this.  Its view is that manufacturers of dairy alternatives have a First Amendment right to describe their products as they like (also see the Institute's letter to the FDA).
Gottlieb says the FDA will soon open the question up for public comment.
If these products cannot be called milk, what can they be called?  On this, I defer to The Onion.
As for whether almond milk is milk, here is the ingredient list for the Almond Breeze product:
ALMONDMILK (FILTERED WATER, ALMONDS), CALCIUM CARBONATE, SEA SALT, POTASSIUM CITRATE, SUNFLOWER LECITHIN, GELLAN GUM, NATURAL FLAVORS, VITAMIN A PALMITATE, VITAMIN D2, D-ALPHA-TOCOPHEROL (NATURAL VITAMIN E).