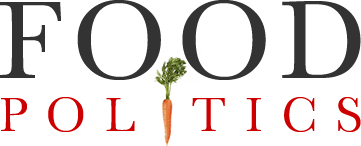 by Marion Nestle
Weekend reading: Paul Greenberg's The Omega Principle
Paul Greenberg.  The Omega Principle: Seafood and the Quest for a Long Life and a Healthier Planet.  Penguin Press, 2018.
This is the third installment of Paul Greenberg's fish trilogy (the previous two are Four Fish and American Catch, both also well worth the read).
This one sounds like a book about nutrition—a nutrient—but it's not.  It may have started out that way, as a book about omega-3 fatty acids whose principal dietary source is fish, but Greenberg soon figured out that claims for the miraculous health benefits of omega-3s don't hold up to scrutiny.
Instead, he uses omega-3s as an organizing framework for discussing how we use and misuse fish for industrial purposes.  To do this, he travels.  He goes to the Mediterranean to examine what happens to anchovies, Peru to see what happens to anchoveta, to the Antarctic to see what happens to krill.
His point?  If we destroy the bottom of the seafood chain to make fishmeal or fertilizer, we destroy the ecology of fish higher up on the food chain.
Greenberg is a lively, entertaining writer who tells great fish tales in pursuit of a serious message: if we want food in our future, we need to eat lower on the food chain.
And the book comes with recipes.  My favorite: Roulades of Antarctic penguin breast.  It begins: "Never make this recipe, please."