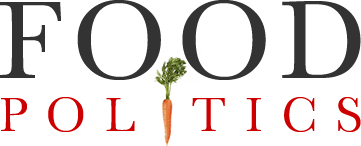 by Marion Nestle
Childhood obesity: progress in the UK, not so much in the US
FoodNavigator reports that Public Health England is taking on—what a concept!—calories as a means to prevent childhood obesity.
It will be looking at ready-to-serve meals, pizzas, burgers, savory snacks, and sandwiches in an effort to help children cut back on the excess 200-300 calories a day they are currently consuming.
The UK is planning targeted reductions in sugars in processed foods.
The food industry doesn't like this: bans on advertising sugary foods to kids are "choking the industry."
I once attended a White House meeting at which I heard representatives of food companies insist that they could not stop marketing to children.  This was their line in the sand.  They had to keep marketing to children to stay in business.
As for the United States, the CDC has just published the latest data on obesity in adults and children.
The trend?  Upward.
Looks like marketing to kids works, and well.
Public health, anyone?