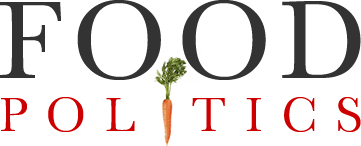 by Marion Nestle
Forget potato chips. Try jellyfish chips !
I am indebted to BakeryandSnacks.com for this insight into food of the future: jellyfish snacks.
Westerner that I am, I think of jellyfish as exquisite creatures pumping away in the Monterey Bay Aquarium or as horrible stinging aggressors on the beaches of Florida.  Until now, I never thought of eating one.
But now a recent paper extols the potential of jellyfish as chips.
As an example, we have studied jellyfish – a food material mostly uncommon to the Western palate, but a delicacy in traditional Asian cuisine having a gastronomic history of more than a thousand years. It is eaten mainly for its interesting crunchy mouthfeel resulting from a month-long salt preservation using sodium chloride and alum. This preservation drastically changes the texture of the jellyfish from being gel-like to resembling that of pickled cucumbers.

We have used state-of-the-art two-photon microscopy and super-resolution STED microscopy to visualize the rearrangements in the filamentous network constituting the jellyfish mesoglea gel during the transformation from a soft gel to a crunchy texture. We further interpret our data in light of polyelectrolyte theory and a modified Flory-Higgins theory that describes ionic gel collapse in poor solvent to suggest an alternative preservation method. Using ethanol, we thus have created what can be classified as jellyfish chips that has a crispy texture and could be of potential gastronomic interest.
As BakeryandSnacks.com explains:
Jellyfish are widely eaten in Asia, by typically marinating the bell (or body) in salt and potassium alum for several weeks to produce a pickle-like texture.  However, the Western palate is unaccustomed to this food source and the jellyfish is often described as "slimy"​ and "tasteless".
But now, "Scientists from the University of Southern Denmark have developed a technique to turn jellyfish into a crunchy chip, potentially creating a market for aquatic snacks…."
As for nutrition, jellyfish are mostly water and sea water at that; their nutritional composition is like that of sea water, high in sodium but not much else.
Can't wait to taste one.
Yum?