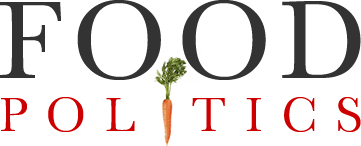 by Marion Nestle
NAFTA negotiations put front-of-package warning labels at risk
Last week, the New York Times published an article about how the US was inserting provisions in NAFTA negotiations to restrict the ability of Mexico to put warning labels—similar to those in Chile and other countries—on ultraprocessed "junk" foods.
Urged on by big American food and soft-drink companies, the Trump administration is using the trade talks with Mexico and Canada to try to limit the ability of the pact's three members — including the United States — to warn consumers about the dangers of junk food, according to confidential documents outlining the American position.

The American stance reflects an intensifying battle among trade officials, the food industry and governments across the hemisphere. The administration's position could help insulate American manufacturers from pressure to include more explicit labels on their products, both abroad and in the United States. But health officials worry that it would also impede international efforts to contain a growing health crisis.
In response to questions by Rep. Lloyd Doggett (Dem-Texas), US Trade Representative Robert Lighthizer argues that front-of-package labels are a form of protectionism.
Really?
A more compelling reason is that food companies are worried about the possible spread of front-of-package warning labels like those in Chile, Ecuador, and other countries.
I have a long-standing interest in front-of-package labels and wrote about opposition to the warning-label movement recently in a commentary in the American Journal of Public Health.
The Center for Science in the Public Interest (CSPI) issued a statement:
More countries, and certainly the United States, Canada, and Mexico, should give consumers easy-to-read front-of-package labeling that quickly communicates the information they need to avoid diet-related diseases…This is not an "America First" policy; it is an "Industry First" policy, conducted at the expense of the health of consumers in the U.S. and abroad.
Julia Belluz (Vox) describes the effects of a provision like this on Canada's front-of-package labeling proposals.
Mexico's outstanding food advocacy coalition, the Nutritional Health Alliance, argues that this pro-industry effort to block warning labels poses a serious threat to consumer rights and public health.
It held a press conference last week on this issue and has produced background documents (in Spanish, but it's always fun to try Google Translate):