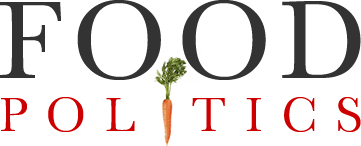 by Marion Nestle
My latest honor: "Crankster!"
I don't usually pay attention to what the American Council for Science and Health (ACSH) says or does, mainly because it is a long-standing front group for the food and chemical industries, and it predictably supports the interests of those industries over public health (see US Right to Know's analysis).
But then I read this from the Center on Media and Democracy: Corporate Front Group, American Council on Science and Health, Smears List of Its Enemies as "Deniers for Hire."
Smeared by the site are scientists Tyrone Hayes, Stephanie Seneff, and Gilles-Éric Séralini; New York Times reporter Danny Hakim and columnist Mark Bittman; well-known food and science writer Michael Pollan; nutrition and food studies professor Marion Nestle; public interest groups like U.S. Right to Know, Greenpeace, Natural Resources Defense Council (NRDC), Sierra Club, the Environmental Working Group, and Union of Concerned Scientists; past and present CMD staff, and many other individuals ACSH does not like.
Clearly, I'm in good company.  But what, exactly, have I—a "Crankster," apparently—done to deserve this honor?  It seems that I:
What can I say?  Read my work and decide for yourself if such concerns are justified.