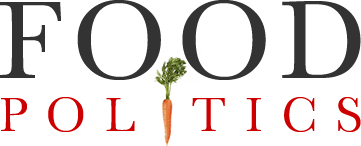 by Marion Nestle
Weekend viewing: The Biggest Little Farm
I rarely review food movies, but this is an especially good one, beautifully filmed, inspiring, yet raw enough to ring true: The Biggest Little Farm.
I saw this in Ithaca's Cinemopolis last week along with about ten other people.  There should have been more.  It's well worth seeing.
The film is about a young couple (John Chester is a filmmaker, Molly Chester is a professional cook), with a dream to farm in a way that promotes biodiversity.  They know nothing about farming but somehow acquire 200 acres of barren, parched land an hour north of Los Angeles.
Well advised to apply principles of regenerative agriculture, they transform the soil and turn the property into a lush orchard in served by a Noah's ark of animals, chickens, ducks—and endlessly invasive wildlife.
The film, conceived, directed, and gorgeously filmed by John Chester, develops its dramatic tension and emotional depth from the realities of making this farm project work.  Nature is indeed red in tooth and claw; coyotes do kill chickens every chance they get; and beloved pigs do get sick.
By year seven, the farm is stunningly beautiful, fully regenerated, ecologically balanced, and productive.
This is vastly inspiring; farming as it ought to be done is not easy, but it is possible and worth doing.
See this film and decide for yourself whether you find it as charming as I did.
With that said, I walked out of the movie with one burning question: What was the business model?
The farm looks expensive, very expensive.  How did the Chesters get the money to do this and survive the years before they could sell anything, especially since 70% of the early fruit crops were consumed by birds?
The film mentions an investor but provides no details.  I want them.
The biggest barrier to young people going into farming is the cost—of land, equipment, labor, plants, animals.  How did this couple, who had no money to start with, finance this farm?
Other people who want to do this kind of farming need to know this.