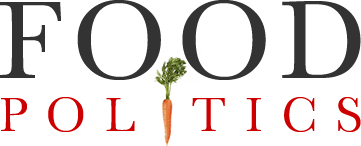 by Marion Nestle
New report predicts collapse of dairy and cattle industries by 2030
A group called RethinkX has produced an attention-getting report: "Rethinking Food and Agriculture 2020-2030."
Its press release argues that new lab-based technology will thoroughly disrupt dairy and cattle farming.
By 2030, the dairy and cattle industries will have collapsed as animal-derived foods are replaced by modern equivalents that are higher quality and cost less than half as much to produce. The rest of the livestock industry will suffer a similar fate.
Furthermore, the new products will be "ever cheaper and superior – more nutritious, healthier, better tasting, more convenient, and more varied."
The press release says that via a process of "death by a thousand cuts,"
different parts of the cow (meat, milk, collagen, and leather) and the markets they serve will be disrupted separately and concurrently by different technologies and business-model innovations that overlap, reinforce, and accelerate one another…The key to understanding the disruption of the cow is that PF [precision fermentation] only needs to disrupt 3.3% of the milk bottle – the key functional proteins – to bring about the collapse of the entire cow milk industry.
The report predicts that by 2030:
The number of cows in the U.S. will have fallen by 50%.
Production volumes of the U.S. beef and dairy industries and their suppliers will be cut by more than half.
The market for ground beef by volume will have shrunk by 70%, the steak market by 30% and the dairy market by almost 90%.
The U.S. dairy and cattle industries will have collapsed, leaving only local specialty farms in operation.
The volume of crops needed to feed cattle inthe U.S. will fall by 50%…causing cattle feed production revenues, at current prices, to fall by more than 50%.
Half of the 1.2 million jobs in U.S. beef and dairy production (including supply chain), along with their associated industries, will be lost
Really?  Is the technology that good, approved, and acceptable?
It's hard to take this seriously at this point, but the trends are worth watching.
I'm wondering what the cattle and dairy trade groups and lobbyists have to say about all this.