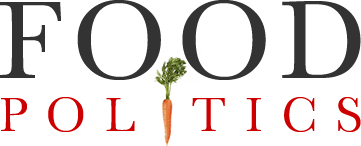 by Marion Nestle
BakeryandSnacks.com on "free-from" labels
I love "free-from" labels (no sugar, no salt, no GMOs, no gluten, etc).  My first question is always "OK, so what IS in them?"
But "free-from" works for marketing, as these articles show.

Special Edition: The rise of free from

What is driving the free from trend – grain-free, gluten-free, lactose-free, egg-free, dairy-free, sugar-free, fat-free and even free from additives, animal products and unrecyclable properties – and will it have legs?

Research shows consumers perceive free from (and clean label) products to be healthier and are synonymous with the wider trend of sustainability and social responsibility. However, the big challenge for producers remains to create products that have the same texture, taste and mouthfeel as regular products. Despite their desire for more natural foods, consumers are not prepared to sacrifice these ideals.

We examine the ingredients being developed to accommodate the consumer's growing penchant for healthy snacking driving the growth of alternatives to traditional snack ingredients.