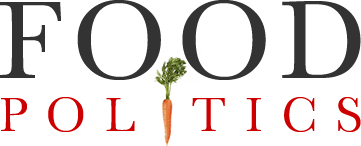 by Marion Nestle
SNAP: A special section in the American Journal of Public Health:
I guest-edited a series of papers on SNAP, the Supplemental Nutrition Assistance Program, for the American Journal of Public Health (AJPH).  The papers are now online and will be in print in the December issue of the journal.
AJPH SUPPLEMENTAL NUTRITION ASSISTANCE PROGRAM
Marion Nestle, PhD, MPH, served as Guest Editor for the special section: "AJPH Supplemental Nutritional Assistance Program." M. Nestle oversaw peer review for the articles, provided input on peer reviewer selection and peer review evaluation, suggested which articles would appear in the special section, and wrote the lead Commentary.
Conflicts of interest disclosure: Marion Nestle's retirement benefits and a small fund from New York University support her research, publications, and Web site (foodpolitics.com). She receives royalties from books—and honoraria, travel, and meals related to lectures—about matters relevant to this special section.
PODCAST
Alfredo Morabia, the executive editor of AJPH, interviewed one of the authors, Joanna Cruz Simmons, and me in his monthly podcast.
SECTION OVERVIEW
The Supplemental Nutrition Assistance Program (SNAP): History, Politics, and Public Health Implications.  Marion Nestle.  109(12), pp. 1631–1635.
EVIDENCE
Links of the Supplemental Nutrition Assistance Program With Food Insecurity, Poverty, and Health: Evidence and Potential.  Brynne Keith-Jennings, Joseph Llobrera and Stacy Dean.  109(12), pp. 1636–1640.  Supplemental Material
RURAL SNAP
Importance of the Supplemental Nutrition Assistance Program in Rural America.  Lisa Harnack, Sruthi Valluri and Simone A. French.  109(12), pp. 1641–1645.
URBAN SNAP
SNAP at the Community Scale: How Neighborhood Characteristics Affect Participation and Food Access.  Nevin Cohen.  109(12), pp. 1646–1651
COLLEGE STUDENT SNAP
College Students and SNAP: The New Face of Food Insecurity in the United States.   Nicholas Freudenberg, Sara Goldrick-Rab and Janet Poppendieck.  109(12), pp. 1652–1658.
SNAP DATA
Supplemental Nutrition Assistance Program Data: Why Disclosure Is Needed.  Jennifer L. Pomeranz. 109(12), pp. 1659–1663
SNAP PARTICIPANTS
Recommendations From SNAP Participants to Improve Wages and End Stigma.  Tianna Gaines-Turner, Joanna Cruz Simmons and Mariana Chilton.  109(12), pp. 1664–1667.
INTERNATIONAL COMPARISONS
Alternatives to SNAP: Global Approaches to Addressing Childhood Poverty and Food Insecurity.  Lia C. H. Fernald and Wendi Gosliner.  109(12), pp. 1668–1677.   Supplemental Material