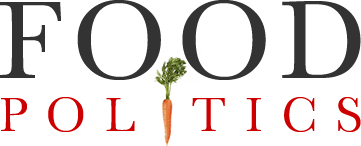 by Marion Nestle
Weekend reading: history of American cuisine
Paul Freedman.  American Cuisine: And How it Got that Way.  Liveright Publishing, 2019.
Paul Freedman is an historian at Yale who in recent years has taken on food history.  His previous book, Ten Restaurants that Changed America, was on my weekend reading list in 2016.
This one covers the history of cuisine in America, addressing basic questions such as "is there such a thing as American cuisine?," "What happened to it?," and "What is likely to happen to it?"
The chapters cover such things as culinary nostalgia, community cookbooks, industrial food, ethnic restaurants, and the food revolution.  My favorite chapter title: "Have your cake, choose from our fifteen fabulous flavors, and eat it too."
It's a good read.  Here is a sample from page 367:
Americans have been enthusiastic consumers of modern products.  It is not just that historically the United States was technologically precocious or that its citizens value convenience, although these are true.  The key factor is a peculiar attitude toward food.  Americans have attempted to apply ideas about health and efficiency to diet.  Obsessed with technological progress, anxious about time-saving, and worried about physical well-being, Americans for well over a hundred years have embraced scientific nutrition, industrial food, and convenience.  They have been willing to sacrifice tradition and regional variation in favor of standard brands and their array of flavor and style.  Infatuation with science, convenience, and variety require giving up the natural taste of food in favor of texture, color, multiplicity, and simplicity of preparation.  Quick, easy, and healthful have been more important than flavor.
This is also a beautiful book, printed on high-quality paper, in an attractive easy-to-read font, and lavishly illustrated with menus, recipes, and pictures of advertisements, book covers, places, and people, many of them in color.
Reading it made me want to re-read Laura Shapiro's Perfection Salad and Something From the Oven, both cited by Freedman in his chapter titled "women and food in the twentieth century."