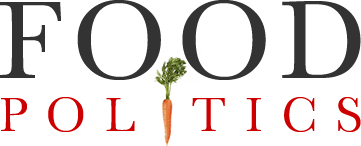 by Marion Nestle
Industry-funded scientific argument of the week: do blueberries prevent dementia?
I have posted several studies funded by blueberry trade associations over the years, including my all-time favorite, the one about prevention of erectile dysfunction.  Yes!
Can we please use some common sense here?  I love blueberries, grow and harvest them on my Manhattan terrace, and eat them whenever I can—but not because I think there is the remotest chance that they alone will keep me from dementia.
But scientists are seriously debating whether blueberries do or do not improve cognitive function in the elderly.
Study #1: Hein S, Whyte AR, Wood E, Rodriguez-Mateos A, Williams CM. Systematic review of the effects of blueberry on cognitive performance as we age. Journal of Gerontology: Series A. 2019;74(7):984-95
Conclusion: "Findings from these studies indicate that cognitive benefits may be found for delayed memory and executive function in children and for delayed memory, executive function, and psychomotor function in older healthy and MCI [mild cognitive impairment] adults".
Funder: "This work was supported by an unrestricted grant from the Wild Blueberry Association of North America."
The Debate:
Study #2:  The effect of blueberry interventions on cognitive performance and mood: A systematic review of randomized controlled trials.
Conclusion: "Based on the current evidence, blueberries may improve some measures of cognitive performance."
Funding: The article, still in press, states that the authors declare no competing interests but provides no information about study funding.
The debate: 
My Comment: Of course blueberries are healthy and wouldn't it be wonderful if all you had to do to prevent dementia was to eat some every day.  Skeptic that I am, I am happy to see widespread agreement that these studies do not constitute conclusive evidence.  Of course eating blueberries (or any other fruit) is healthy; eating fruits and vegetables is healthy.   This kind of research is about getting you to eat more blueberries, rather than any other kind of berry or fruit.