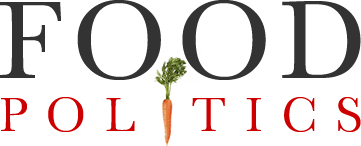 by Marion Nestle
U.S. agriculture policies are a mess: trade, tariffs, payments
Food trade is a mess right now, but I keep trying to keep up with it.  Here are some recent items that caught my attention..
Trade deals dump U.S. junk foods in Central America.  The University of Buffalo sent out a press release about a study of the effects of the Dominican Republic-Central America Free Trade Agreement (CAFTA-DR) on dietary practices in that country.
Our analysis demonstrates that low-income consumers face increasing household food expenditures in a context of overall food price inflation, in addition to relatively higher price increases for healthy versus ultraprocessed foods. Neoliberal policies not only contribute to restructuring the availability and pricing of healthy food for low-income consumers, but they also exacerbate social inequality in the food system through corporate-controlled supply chains and farmer displacement.
Current tariff policies threaten nearly 1.5 million jobs and raise prices.   This is the conclusion of a 75-page report conducted by economic consulting firm BST Associates .
A new study commissioned by the Port of Los Angeles finds that U.S. tariffs put nearly 1.5 million American jobs and more than $185 billion in economic activity at risk nationwide – based solely on the impact of tariffs on cargo handled in the San Pedro Bay port complex….China is the primary target of the Trump administration's tariff policy, and Chinese producers account for about half of the imports passing through San Pedro Bay. Chinese retaliatory tariffs affect China-bound American exports, and Chinese buyers account for nearly a third of the American products headed overseas out of LA and Long Beach…"With 25 percent fewer ship calls, 12 consecutive months of declining exports and now decreasing imports, we're beginning to feel the far-reaching effects of the U.S.-China trade war…With the holiday season upon us, less cargo means fewer jobs for American workers."
The USDA has released the second collection of payments compensating agriculture for losses due to the trade war with China.  This comes to more than $14 billion on this round.  This is on top of the previous $9 billion already paid.  All of this is way beyond what the Farm Bill authorizes in agricultural support.  Supporting Big Ag this way sets an expensive precedent.  And guess where the payments are going.  To "a bundle of states that are essential to his re-election chances," according to the Los Angeles Times.
As for why those payments are needed:  USDA's complicated-to-read economic report explains how farm debt is increasing and income decreasing.  As the Des Moines Register reports, Iowa's farm debt reached $18.9 billion in the second quarter of 2019—the highest level in the nation.  USDA's farm income and wealth statistics are here.
In the meantime, what's happening to small farms?  They face extinction, according to Time Magazine.
A mess indeed.  Fixable?  Only with political will.  It's hard to be optimistic at this point.