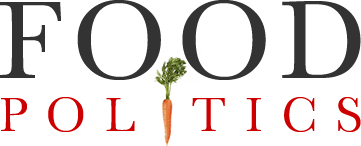 by Marion Nestle
What's up with cell-based meats?
Artificial meats constructed from animal muscle cells are in the works but not yet on the market.  Much less is being written about them than about plant-based meats, but occasionally a few items surface.
Cell-based meat products are years away, so why are states making so many laws about them?  Seventeen laws about meat labeling were passed in 14 states in 2019, and nine states are considering similar legislation this year.
From Capital News Service, an example:A Republican-backed bill in the Maryland state Senate would bar cell-based meat or products made with plant or insect protein from being sold as "meat."
Cell-based meat in focus: In conversation with Meatable, Finless Foods, New Age Meats:  While a new cell-based meat company emerges from stealth mode almost every month, the amount of money invested in the embryonic sector to date pales in comparison to the megabucks poured into plant-based meat over the past couple of years. So is slaughter-free meat still a pipedream, or something that can really work on an industrial scale?…Read more  
Cell-based meats approaching scalability:  While barriers to commercialization remain, there are signs cell–based meat may soon be a reality in the marketplace.
Memphis Meats Raises $161 Million: Memphis Meats, a startup company that has just raised $161 million, says it has a "clear path" to bringing cell

–

based meats

to market. 
Coming soon to a supermarket near you?  We shall see.