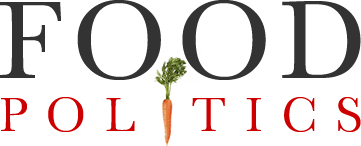 by Marion Nestle
Weekend reading: More on food banks
Rebecca de Souza.  Feeding the Other: Whiteness, Privilege, and Neoliberal Stigma in Food Pantries.  MIT Press, 2019.
This must be the season for books about food banking (see last week's Weekend Reading).
Rebecca de Souza explains her book as about
food justice and, more precisely, the stigmatizing narratives that surround people who are hungry and food insecure…I argue that stigmatizing narratives about those who are hungry and food insecure—that is, poor people, women, and racial minorities—serve to uphold and legitimize the unjust food system.  I use the term neoliberal stigma to refer to a particular kind of Western and American narrative that focuses on individualism, hard work, and personal responsibility as defining attributes of human dignity and citizenship.  When people do not live up to these parameters, for reasons out of their control, they are marked as irresponsible, unworthy, and "bad citizens," creating the "Us and Them" phenomenon.
She demonstrates these concepts through observations of two food pantries in Duluth, Minnesota.