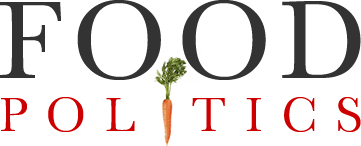 by Marion Nestle
Industry-funded study of the week: fruit extracts and cognitive function
I learned about this one from Nutra-Ingredients-latam.com, one of those industry newsletters I avidly follow: "Grapes plus blueberries may boost cognitive function in college students."
The study: Acute Intake of a Grape and Blueberry Polyphenol-Rich Extract Ameliorates Cognitive Performance in Healthy Young Adults During a Sustained Cognitive Effort.  Philip P, et al.  Antioxidants 2019, 8, 650; doi:10.3390/antiox8120650.
Purpose: "This study investigated the acute and sustained action of a polyphenols-rich extract from grape and
blueberry (PEGB), on working memory and attention in healthy students during a prolonged and intensive cognitive effort."
The comparison: "Participants were asked to either consume 600 mg of polyphenol-rich active extract made from
grape (Vitis vinifera L.) and wild blueberry (Vaccinium angustifolium) (Memophenol, Activ'Inside, Beychac et Caillau, France), or a placebo containing pure maltodextrin (Maltrin® M100, Roquette, Lestrem, France) and providing no polyphenol."
Conclusion: "Our findings suggest that consumption of PEGB coupled with a healthy lifestyle may be a safe alternative to acutely improve working memory and attention during a sustained cognitive effort."
Funding: This study was funded by Activ'Inside (Bordeaux area, France).
Comment: All I had to do was see the title of this study to guess that it was funded by a company with a vested interest in the study's outcome.  Activ'Inside makes antioxidant extracts for purposes like this.  I'm all for college students eating grapes and blueberries rather than taking drugs to keep them up all night, but flavanol extracts?  Not the same.  Chalk this one up to marketing, not science.