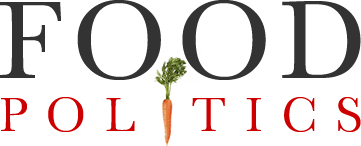 by Marion Nestle
Weekend reading: Coronavirus effects on food systems
The International Panel of Experts on Sustainable Food Systems has produced a useful report, COVID-19 and the crisis in food systems: Symptoms, causes, and potential solutions
The lockdowns and disruptions triggered by COVID-19 have shown the fragility of people's access to essential goods and services. In health systems and food systems, critical weaknesses, inequalities, and inequities have come to light. These systems, the public goods they deliver, and the people underpinning them, have been under-valued and under-protected. The systemic weaknesses exposed by the virus will be compounded by climate change in the years to come. In other words, COVID-19 is a wakeup call for food systems that must be heeded.
Covid-19 has three lessons for systems
 Industrial agriculture is driving habitat loss and creating the conditions for viruses to emerge and spread.
A range of disruptions are testing the resilience of food supply chains and revealing underlying vulnerabilities.
 Hundreds of millions of people are living permanently on the cusp of hunger, malnutrition, and extreme poverty, and are therefore highly vulnerable to the effects of a global recession.
Its recommendations
Take immediate action to protect the most vulnerable
Build resilient agroecological food systems
Rebalance economic power for the public good: a new pact between state and society
Reform international food systems governance
Comment: This thoughtful, well documented report establishes a strong basis for action.  If only….