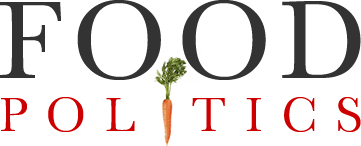 by Marion Nestle
The meat problem 3: Culling animals, Harvest Boxes again
I'm trying to keep up with meat crisis items.  Here are two.
CULLING
This is too upsetting to even talk about.
HARVEST BOXES AGAIN
The USDA's current version of Harvest Boxes for food assistance is called the Farmers to Families Food Box Program, as I wrote about in a previous post.
The idea is that all those food animals and other foods that are being destroyed because of food chain problems will be collected, packed in boxes, and distributed to food banks  to be further distributed to people in need.
The USDA has now issued the contracts to companies who have bid to do this work.
Oops.  Some getting millions of dollars in contracts have no experience with this sort of thing.  As Politico reveals,
Most of the most well-known companies in the business, from large national names like FreshPoint, a division of Sysco, to more regional companies like Keany Produce, based in Maryland, were left off.  Muzyk of Baldor Specialty Foods said it's clear that some companies applied without understanding what's really required to purchase, pack and distribute fresh food at the scale the program requires. It requires proper cold storage capacity and trucks as well as food safety practices, particularly for produce which is vulnerable to contamination.
The contracts have raised eyebrows throughout the produce industry.
The Packer, which writes about produce-industry matters, wants to know how those contracts were awarded.
But questions immediately began circulating: How does a high-dollar events promoter pull down the largest contract ($39 million) in Texas? Why are companies without Perishable Agricultural Commodities Act licenses, warehouses, coolers or trucks receiving multi-million contracts, some well beyond the annual revenue of the company?…United Fresh Produce Association president and CEO Tom Stenzel wrote to Bruce Summers, administrator of the USDA's Agricultural Marketing Service, which is overseeing the contracts, with a list of 15 questions.
The Packer, also wonders what will go in those boxes
The U.S. Department of Agriculture gives companies participating in the Farmers to Families Food Box Program leeway on what's going in the produce boxes. The Packer wants to see what Farmers to Families' contract recipients are packing into their boxes.
This looks like a disaster waiting to happen.  Companies with no track-record for these kinds of logistics are supposed to collect food, pack it, and get it to food banks.
Food banks, largely run by volunteers, are supposed to get the boxes to those who need food.
I can't imagine how this can work.  In the meantime, the culling continues.
Additions