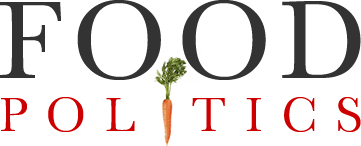 by Marion Nestle
Industry-funded study of the week: Stevia
Stevia Beverage Consumption prior to Lunch Reduces Appetite and Total Energy Intake without Affecting Glycemia or Attentional Bias to Food Cues: A Double-Blind Randomized Controlled Trial in Healthy Adults.  Nikoleta S Stamataki, Nikoleta S Stamataki, Corey Scott, Rebecca Elliott, Shane McKie, Douwina Bosscher, John T McLaughlin. The Journal of Nutrition, Volume 150, Issue 5, May 2020, Pages 1126–1134.
Method: This randomized, controlled, double-blind crossover study gave 20 healthy participants water or beverages with various sweeteners before lunch.  The investigators measured how much participants ate after consuming each drink.
Conclusion:  "This study found a beneficial and specific effect of a stevia beverage consumed prior to a meal on appetite and energy intake in healthy adults."
Conflict of interest statement: "This study was supported by funding from the UK's Biotechnology and Biological Sciences Research Council (BBSRC) through a BBSRC Case Studentship awarded to NSS. Cargill prepared and provided the test products free of charge.  Author disclosures: DB and CS were employed by Cargill during the preparation of this manuscript, and Cargill produces stevia. The other authors report no conflicts of interest."
Comment:  The artificial sweetener Stevia is manufactured by Cargill.  Two of the authors work for Cargill.  Cargill has a vested interest in demonstrating that consumption of Stevia helps people lose weight.  Whether artificial sweeteners help with weight loss is a question much debated.  Industry-funded studies like his one tend to find benefits.  Some independently funded studies do too but others do not.
My guess: artificial sweeteners might help some people, but their overall benefits, if any, are small.
My take: one of my food rules is not to eat anything artificial, so Stevia is off my dietary radar from the get-go.