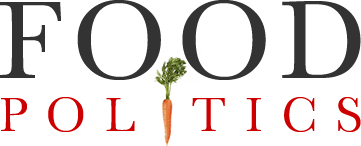 by Marion Nestle
Cheery foodie things for kids to do over the holidays and beyond
I got two notices this week about food lessons for kids.  These tend to be education-y (stuffier and more theoretical than necessary, in my opinion), but easily adapted to doing fun stuff at home.
From the Edible Schoolyard Project: Edible Education for the Home.  This involves the Cooking with Curiosity Curriculum for kids in grades six through nine.  But the website has lots of other ideas, some gathered from collaborators.  In the Resource Library, for example, I found a useful lesson on how to flip food—just the thing to do on a snowbound day.
From Food Corps:  An huge bunch of food lessons for younger kids, kindergarten to fifth grade.  Food Corps says these
Lessons include hands-on experiential activities to engage kids in learning about healthy food. This suite of 96 lessons are for grades K-5, and are organized through this learning progression by grade, season and theme…Each lesson was developed with input from FoodCorps service members, community partners and resource specialists, and have been evaluated and updated to reflect recommendations from our community of food educators. This suite of lessons is intended to guide food and garden educators to spark inquiry and love for healthy food and should be adapted to reflect the needs, identity and culture of the community in which they are taught.
It might be fun to start a worm bin to keep your kids busy under lockdown.
And if your kids ever get to go back to school, get the school to use the Healthy School Toolkit.