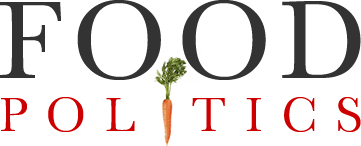 by Marion Nestle
Food companies should join the B Corporation movement
I read in DairyReporter.com that Danone reports an increased score in it B-Corporation certification.
I am interested in the B-Corporation phenomenon.
B Corporations are required to include social values—along with the usual profit motives—as established goals.
Society's most challenging problems cannot be solved by government and nonprofits alone. The B Corp community works toward reduced inequality, lower levels of poverty, a healthier environment, stronger communities, and the creation of more high quality jobs with dignity and purpose. By harnessing the power of business, B Corps use profits and growth as a means to a greater end: positive impact for their employees, communities, and the environment.
What is that one unifying goal?  "We envision a global economy that uses business as a force for good."
Certified B Corporations are a new kind of business that balances purpose and profit. They are legally required to consider the impact of their decisions on their workers, customers, suppliers, community, and the environment. This is a community of leaders, driving a global movement of people using business as a force for good.
B Corporations promise:
That we must be the change we seek in the world.
That all business ought to be conducted as if people and place mattered.
That, through their products, practices, and profits, businesses should aspire to do no harm and benefit all.
To do so requires that we act with the understanding that we are each dependent upon another and thus responsible for each other and future generations.
Companies are assessed and rated on social value criteria.  They must achieve 80 of 200 points to be certified.
Food companies are among those certified as B corps
I'm not sure how this plays out in practice, but this certainly appears to be a step in the right direction.
If we want to encourage this effort:
Support food companies that sign up to be B corps.
Urge other food companies to join.
Hold them all accountable.