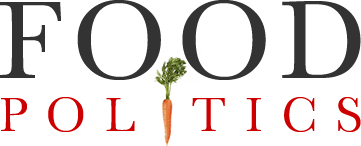 by Marion Nestle
What is the FDA doing about heavy metals in baby food?
I've written previously about the alarming findings of toxic heavy metals in baby foods.  These toxins are in all foods, but are particularly harmful to infants and young children, a situation that calls for immediate FDA action to set limits on the amounts these foods contain.
The FDA has a Q and A on this issue.  It has also issued previous guidance.
In response to many complaints, the FDA has now issued a plan for action:  "Closer to Zero."
Translation: the agency will propose action levels (limits on allowable amounts), consult with stakeholders, finalize the limits, and then evaluate how the whole thing works to reduce intake levels.
Timeline: It plans to do this starting now, with the aim of finishing the process by 2025.
The FDA must not consider limiting toxic metals in baby food to be urgent.
No wonder some members of Congress have introduced la bill to force the FDA to set limits for the most common toxic metals within a year.  It suggests what those limits should be: 10 parts per billion for inorganic arsenic in baby food (15 ppb for cereal); 5 ppb for both cadmium and lead (10 ppb for cereal); and 2 ppb for mercury.
While all this is going on, what are parents to do?
Suggestions from Harvard Health
The FDA is working on doing better monitoring and regulation of heavy metals in commercial baby foods. In the meantime, it's nearly impossible to know which are completely safe and which aren't. Babies don't need solid foods until 6 months of age. At that time it's perfectly fine to give them soft table foods instead of baby foods. You can also make your own baby food, using steamed or naturally soft foods and a blender. (Storage tip: you can pour a homemade puree into an ice cube tray and freeze it, and then just grab the cubes you need each time.)
Suggestions from Healthy Children
Give your child a wide variety of different foods (the more natural colors, the better).
Vary the grains. As mentioned above, it's best to limit rice and rice products (check labels — rice is in a lot of foods marketed for babies, like "puffs"). Try barley, oats, and other grains. When cooking rice, it's best to cook it in extra water and drain that water off, and to use white basmati and sushi rice, which have less arsenic.
Check your water. Old pipes can contain lead, which can leach into drinking water.
Avoid fruit juices. Not only can they increase the risk of cavities and obesity, but many commercial juices also contain heavy metals.
Make healthy fish choices. Fish contains nutrients that are very healthy for the developing brain, but some fish can contain unhealthy amounts of mercury. Stay clear of big, predatory, long-living fish like swordfish, shark, or albacore tuna; it's better to choose fish like cod, light tuna, salmon, or pollock.
In the meantime…