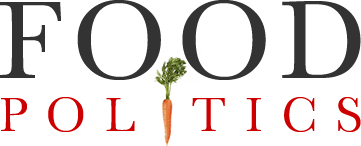 by Marion Nestle
The Biden Administration's challenge to meat industry consolidation
I posted last week on meat-industry consolidation, an issue that has become so prominent that the White House is even talking about it.
The President understands that families have been facing higher prices at the grocery store recently. Half of those recent increases are from meat prices—specifically, beef, pork, and poultry. While factors like increased consumer demand have played a role, the price increases are also driven by a lack of competition at a key bottleneck point in the meat supply chain: meat-processing. Just four large conglomerates control the majority of the market for each of these three products, and the data show that these companies have been raising prices while generating record profits during the pandemic.

That's why the Biden-Harris Administration is taking bold action to enforce the antitrust laws, boost competition in meat-processing, and push back on pandemic profiteering that is hurting consumers, farmers, and ranchers across the country.
Speaking for the White House, the director of the National Economic Council said:
When you see that level of consolidation and the increase in prices, it raises a concern about pandemic profiteering — about companies that are driving price increases in a way that hurts consumers who are going to the grocery store, and also isn't benefiting the actual producers, the farmers and the ranchers that are growing the product.
The reactions
In a statement, Tyson's Foods said "Tyson Foods categorically rejects the conclusions drawn earlier today by the Secretary of Agriculture and the Director of the National Economic Council in a White House press briefing.  The U.S. Department of Agriculture recently published a report detailing the drivers of consumer inflation in the food sector, none of which are related to industry consolidation or scale."
Smithfield pointed to a statement from the North American Meat Institute.
And then there's this @FarmPolicy tweet,
Interesting times, these.