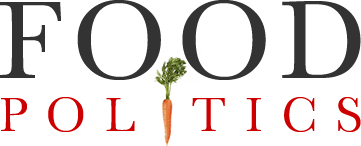 by Marion Nestle
Weekend reading: Break up Big Ag
Two articles on similar themes have come out recently.
Is It Time to Break Up Big Ag? — The New Yorker
Nationally, the four largest dairy co-ops now control more than fifty per cent of the market. They've been able to grow so big, in part, because of a 1922 law called the Capper-Volstead Act, which provides significant exemptions from antitrust laws for farmer-owned agricultural coöperatives. "The agricultural industry is different than other industries because Capper-Volstead allows them to combine in ways that other individuals would go to jail for," Allee A. Ramadhan, a former Justice Department antitrust attorney who led an investigation into the dairy industry, told me.

The law's protections were intended to give small, independent farmers the right to collectively bargain prices for processing and selling their goods, but many large co-ops, such as D.F.A., have increasingly come to resemble corporations.
Break Up Big Chicken — The New York Times
Most chicken that Americans eat is processed by a handful of big companies because, in recent decades, the government gave its blessing to the consolidation of poultry processing, along with a wide range of other industries. The unsurprising result: In recent years, the surviving companies took advantage of their market power to prop up the price of chicken, overcharging Americans by as much as 30 percent.

Evidence of the industry's misconduct became so blatant — thanks in part to lawsuits filed by wholesale poultry buyers — that regulators were roused from complacency. Beginning in 2019, the government has filed a series of charges against the companies and their executives.
And while we are at it, let's not forget Philip Howard's work, which I've written about previously.