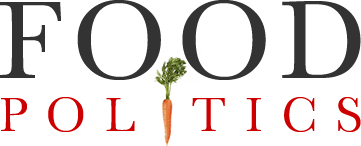 by Marion Nestle
Industry-funded study of the week: pet food!
I have a long-standing interest in pet food (see Feed Your Pet Right, and Pet Food Politics: The Chihuahua in the Coal Mine) and in conflicts of interest in research (see Unsavory Truth: How Food Companies Skew the Science of What We Eat).  Knowing of both, a reader, Teresa Reinhardt, alerted me to this one.
The study:  Investigation of diets associated with dilated cardiomyopathy in dogs using foodomics analysis.  Caren E. Smith, Laurence D. Parnell, Chao-Qiang Lai, John E. Rush & Lisa M. Freeman.  Scientific Reports volume 11, Article number: 15881 (2021).
Purpose: to identify specific pet food ingredients associated with Dilated Cardiomyopathy (DCM) in dogs.
Methods: Metabolomic profiling of 25 diets associated with canine DCM and 9 diets not associated with DCM.
Results: "Four diet ingredients distinguished the two diet groups (peas, lentils, chicken/turkey, and rice). Of these ingredients, peas showed the greatest association with higher concentrations of compounds in 3P/FDA diets [the ones associated with DCM]."
Funding:  "This work was funded in part by Nestlé Purina PetCare and the Barkley Fund. This work was funded in part by United States Department of Agriculture project number 8050-51000-107-00D, and this entity had no part in the design of the experiments, in the collection, analysis and interpretation of data, nor in composing the manuscript."
Conflicts of interest: "In the last 3 years, Dr. Freeman has received research funding from, given sponsored lectures for, and/or provided professional services to Aratana Therapeutics, Elanco, Hill's Pet Nutrition, Nestlé Purina PetCare, P&G Pet Care (now Mars), and Royal Canin. In the last 3 years, Dr. Rush has received research funding from, given sponsored lectures for, and/or provided professional services to Aratana Therapeutics, Boehringer Ingelheim, Elanco, IDEXX, Nestlé Purina PetCare, and Royal Canin. None of the other authors has any competing interests to declare."
Comment:  DCM is a common heart disease affecting dogs, with a prevalence that exceeds 50% in some breeds (e.g., Doberman Pinschers). More than 1100 cases have been reported to the FDA.
Despite endless speculation, its cause is unknown.  Much attention has focused on one or another dietary deficiencies or specific components (e.g., grains).  As the authors explain:
The diets reported to be associated with DCM often are marketed as "grain-free" and often contain certain ingredients that became part of commercial foods relatively recently (e.g., pulses, potatoes, and sweet potatoes) and lack others (such as rice or corn). Most of the ingredients that are included in the associated diets are also found in human diets, but dogs often eat them in even higher quantities because most dogs eat a single commercial pet food, rather than a variable mixture of multiple foods as humans do.
I think there three issues need further discussion.
(1)  Grains. Some pet owners believe that dogs should not eat grains. They buy pet foods that do not contain them.  This study identified grains only in the pet foods that were not associated with DCM.  Ms. Reinhardt also sent a link to a commentary from someone who questions this finding and raises other critical points about the study.  Dogs are fully capable of digesting grains and grains have been used safely in pet foods for decades.  The FDA describes the association of DCM with on its website.  What's needed to resolve the peas question is a long-term (years, not months) trial of diets with and without peas.  The pet food industry has no incentive to pay for something like that.
(2)  The funding effect.  Nestlé Purina PetCare [no relation] paid for the study, and two of the authors consult widely for pet food companies.  Grains are inexpensive pet food ingredients and it is to Nestlé's interest to have evidence demonstrating that grains do no harm.  How much influence did this company have over the research?  The conflict of interest statement is oddly worded.  The USDA funder is stated to have stayed out of the study, but the statement does not seem to apply to Nestlé, suggesting company influence.
(3)  Pet food research funding in general.  This study had some USDA funding, but government funding for pet food research is rare.  Most pet food research is funded by pet food companies, and most focuses on taste preferences.  Remarkably little research is designed to answer questions about which diets are better than others—a big issue because most pets eat commerical pet foods designed to take care of their complete nutritional needs.
This study identified peas as most strongly associated with DCM.  Pea protein is a main ingredient in plant-based meat alternatives.  It would be good to know more about the dietary effects of peas and pea proteins.
If nothing else this study demonstrates why pet food research matters.  We only have one food system, and pet food is very much a part of that system.