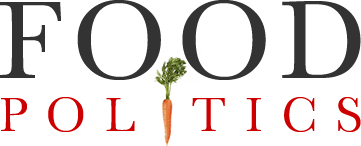 by Marion Nestle
Conflicted study of the week: fake meat will save the planet
Larissa Zimberoff, the author of Technically Food (which I blurbed and reviewed), forwarded  this press release from the University of California Berkeley:  Global elimination of meat production could save the planet.  
A new study of the climate impacts of raising animals for food concludes that phasing out all animal agriculture has the potential to substantially alter the trajectory of global warming.  The work is a collaboration between Michael Eisen, professor of molecular and cell biology at the University of California, Berkeley, and Patrick Brown, professor emeritus of biochemistry at Stanford University and the CEO of Impossible Foods Inc., a company that sells plant-based meat substitutes.
The study: Rapid global phaseout of animal agriculture has the potential to stabilize greenhouse gas levels for 30 years and offset 68 percent of CO2 emissions this century.  Michael B. Eisen, Patrick O. Brown.   PLoS Climate. 2022;1(2).  https://doi.org/10.1371/journal.pclm.0000010 
Method: The authors modeled the combined, long-term effects of emission reductions and biomass recovery that would be unlocked by a phaseout of animal agriculture.
Findings:  A phaseout of livestock production would provide half of the net emission reductions necessary to limit warming to 2°C
Conclusion: The magnitude and rapidity of these potential effects should place the reduction or elimination of animal agriculture at the forefront of strategies for averting disastrous climate change.
Funding:  There was no formal funding of this work. Michael Eisen is an Investigator with the Howard Hughes Medical Institute which funds all work in his lab. Patrick Brown is CEO of Impossible Foods, Inc.
Competing interests: Patrick Brown is the founder and CEO of Impossible Foods, a company developing alternatives to animals in food-production. Michael Eisen is an advisor to Impossible Foods. Both are shareholders in the company and thus stand to benefit financially from reduction of animal agriculture. Michael Eisen and Patrick Brown are co-founders and former members of the Board of Directors of the Public Library of Science.
Comment: By this time, the evidence that reducing production (and, therefore, consumption) of beef should reduce greenhouse gas emissions is extensive and convincing.  Models, even by distinguished investigators like Michael Eisen, are based on assumptions, and assumptions are subject to biases.  The investigators disclose the commercial beneficiary of this study, but disclosure is not enough to make biases disappear.  The authors never mention meat substitutes.  It is up to readers to figure out the benefits for Impossible Foods from statements like these:
Although animal products currently provide, according to the most recent data from FAOSTAT, 18% of the calories, 40% of the protein and 45% of the fat in the human food supply, they are not necessary to feed the global population. Existing crops could replace the calories, protein and fat from animals with a vastly reduced land, water, GHG and biodiversity impact, requiring only minor adjustments to optimize nutrition.