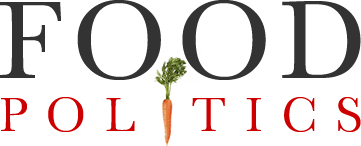 by Marion Nestle
USDA issues interim rules on school nutrition standards
Remember the fight over setting standards for reimbursible meals and a la carte products offered to kids in schools?
Michelle Obama's Let's Move! campaign set healthier standards for school foods.   Although you might think that serving healthy food to kids in schools would get lots of bipartisan support (who could possibly be against it), the standards got lots of pushback (too hard to implement, kids won't like the food, too much food waste, too much nanny state).
Some aspects of the standards—less salt and more fruits, vegetables, and whole grains—survived, but "relaxed" during the Trump administration.  Recall USDA Secretary Sonny Perdue's "Make School Meals Great Again"
That was then and this is now with pandemic-induced obesity rates rising among children, and supply chains making it hard for schools to feed kids in any way.
That has not stopped the Center for Science in the Public Interest, the American Heart Association, and the American Public Health Association from petitioning the USDA to put a limit on added sugars in school meals, to bring them into compliance with the Dietary Guidelines.  By law, the USDA must have school meals follow the guidelines, but this means rulemaking, and rulemaking takes time—lots of it.
USDA has now taken Step #1: transitional standards for milk, whole grains, and salt.
The next steps:
Call for Comments:  The USDA invites comments on these transitional standards and on the next steps.
Resources