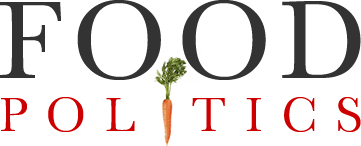 by Marion Nestle
Marketing infant formula: an important report from WHO and UNICEF
WHO and UNICEF have issued a new report: "Examining the impact of formula milk marketing on infant feeding decisions and practices."
The website summarizes the main message: "More than half of parents and pregnant women [are] exposed to aggressive formula milk marketing.
The report finds that industry marketing techniques include unregulated and invasive online targeting; sponsored advice networks and helplines; promotions and free gifts; and practices to influence training and recommendations among health workers. The messages that parents and health workers receive are often misleading, scientifically unsubstantiated, and violate the International Code of Marketing of Breast-milk Substitutes (the Code) – a landmark public health agreement passed by the World Health Assembly in 1981 to protect mothers from aggressive marketing practices by the baby food industry.
The press release explains:
The largest ever study of its kind, it draws on surveys with over 8 500 pregnant women and mothers of young children (aged 0-18 months) across eight countries, and more than 300 health professionals. The study…conducted in eight countries…exposes the aggressive marketing practices used by the formula milk industry, and highlights impacts on families' decisions about how to feed their infants and young children.
The report begins with this prose poem:
The report's main findings:
Formula milk marketing is pervasive, personalized, and powerful.
Formula milk companies use manipulative marketing tactics.
Formula milk companies distort science and medicine.
Industry systematically targets health professionals.
Formula milk marketing undermines parents' confidence in breastfeeding.
Counter-measures can be effective.
Videos posted on Twitter.
Comment: This is an important, timely report. Advocates have been complaining about the ways infant formula companies market their products for decades.  It's way past time to intervene.
More on infant formula marketing tomorrow.