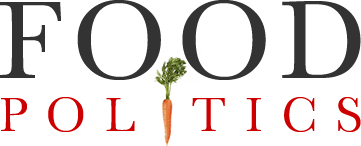 by Marion Nestle
Food industry partnerships with nutritionists: conflicted interests?
Today's Dietitian  sent this e-mail blast to members of the Academy of Nutrition and Dietetics on behalf of the National Pork Board, one of its sponsors.
The National Pork Board is seeking to build strong and meaningful partnerships with the Registered Dietitian profession. When it comes to up-to-date nutrition information, cooking techniques, continuing education and future collaborations, Pork is getting ready to give you the resources you value most. But first, we want to hear from you!

We invite you to take this survey for a chance to win one of fifteen $100 Amazon gift cards!*

The survey should take less than 15 minutes to complete. Your responses are voluntary and confidential. Responses will not be identified by individual but will be compiled and analyzed in aggregate.

Fifteen winners will be chosen at random to receive a $100 Amazon gift card. To be eligible, respondents must share their email address at the end of the survey.

Please click here to take the survey by August 22, 2022* Giveaway is subject to Official Rules.
If you want to know how meat trade associations encourage dietitians to promote their products, here's an example.
Thanks to Dr. Lisa Young for alerting me to this one.