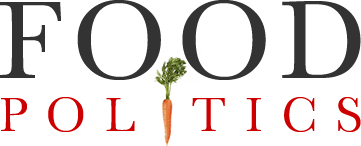 by Marion Nestle
USDA takes a baby step to making the chicken tournament system a bit more fair
USDA has finally proposed new rules to try to make the current poultry farming system a bit more fair to the people who actually raise the chickens.
Under the current system, the big poultry producers get the benefits while the chicken farmers take all the risks.  The companies supply the chicks; the farmers pay for the houses, equipment, and management—and take on immense debt to do so.
They are paid according to a tournament system.  Farmers who produce the most amount of chicken using the least amount of feed are paid the most; others get less.  But the farmers do not control the quality of the chicks they receive.  They also sell to only one buyer, a system with its own name, monopsony.
John Oliver did a synopsis of the tournaent system in 2015.
Hence the new rule: Transparency in Poultry Grower Contracting and Tournaments.  This does not get rid of the tournament system, unfortunately, but it does require poultry companies to disclose key information to growers about realistic outcomes before making important contracting decisions such as capital investments, and about key inputs.
The point is to enable growers to understand the terms of their contracts so as to have a better chance to compete.
Also see:
According to Politico, advocates for a fairer system are complaining that the largest poultry companies are pressuring farmers to oppose the USDA's proposed rule and providing them with form letters to send in.
The USDA acknowledged these complaints when it announced an extension of the public comment period.
USDA is taking these steps to help ensure the integrity of the Federal rulemaking process and to ensure all parties have the opportunity to fully comment.

"There is fear throughout the meat and poultry industry as we saw earlier this year at two separate Congressional hearings where witnesses did not testify due to concerns of retaliation," Vilsack said. "But it is still critical that we hear the full story, so we are highlighting the option for comments to be provided anonymously."
Politico says that as of Aug. 18, the USDA had received at least 350 public comments.  According to its analysis, at least 200 of public comments support the rule, though some supporters have significant reservations and are imploring USDA to go further.