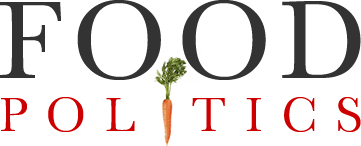 by Marion Nestle
A call for universal school meals: Yes!
TODAY: 3:30 pm, lecture followed by a reception.  Robertson Auditorium, Mission Bay Conference Center, 1675Owens Street Unit 251.  Register here.
**********
FRAC, the Food Research & Action Center, emailed this press announcement:   FRAC and More Than 30 National Organizations Urge Senators to Include Provisions to Expand Community Eligibility in Child Nutrition Reauthorization
The groups signed a letter calling for:
Lowering the eligibility threshold for community eligibility (making school meals universal) from 40 percent identified students to 25 percent
Raising the federal reimbursement so participating schools can serve students
Creating a statewide community eligibility option, which would make universal school meals statewide.
Yes!
Here's what FRAC says about community eligibility:
Community eligibility allows high-need schools to offer free meals to all students at no charge. It reduces administrative work for school districts; allows them to focus on providing healthy and appealing meals to students; supports working families who don't qualify for free school meals; ensures that all students have the nutrition they need to learn and thrive; and eliminates unpaid school meal fees…Studies have shown participation in school meals improves students' attendance, behavior, and academic achievement, and reduces tardiness. Students who eat breakfast at school perform better on standardized tests than those who skip breakfast or eat breakfast at home, and have improved scores in spelling, reading, and math.
We had universal school meals during the pandemic.  This was:
Good for students and their families; kids were fed decently
Good for schools; the didn't have to police and stigmatize kids whose families couldn't pay for meals
Universal school meals would save administrative costs.  Yes, they would cost more, but not that much more.
And the payoff in kids' health would be terrific.
This one is a no brainer.
Do it, please.
***********
For 30% off, go to www.ucpress.edu/9780520384156.  Use code 21W2240 at checkout.