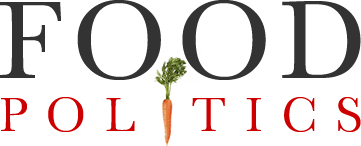 by Marion Nestle
UNICEF's manual on protecting children from food marketing
Increasingly and more urgently concerned about the effects on children of unrestricted marketing of unhealthy foods and beverages, UNICEF and WHO have produced an invaluable manual on why and how governments must act to curb such marketing.
This is a follow up to the UNICEF report I talked about last week on engagement with food and beverage companies and to the WHO recommendations I posted about yesterday.
WHO and UNICEF are on a roll!
The rationale for this publication:
Food and beverage companies play a significant role in shaping children's food environments, but their objectives are profit driven rather than child centred. They have a vested commercial interest in increasing sales of their unhealthy products and use highly immersive, engaging – and often unethical – marketing techniques to target children and their caregivers.
We know that food marketing harms children. It negatively affects children's food preferences, purchase decisions and consumption behaviours, ultimately contributing to childhood obesity and diet-related disease. Food marketing also affects household purchasing decisions and the types of foods that are eaten in the home.
Among this report's key messages:
The evidence is clear that food marketing harms children – especially the poorest and most vulnerable.
Tackling food marketing is challenging: past experience shows that food companies use loopholes and develop new strategies to bypass restrictions.
Voluntary schemes are ineffective in reducing children's exposure to foodmarketing.
Mandatory regulation has the potential to be the most effective path to protecting children from the harmful impact of food
marketing
Governments must act.  Now.
This exceptionaly timely and important report explains how.