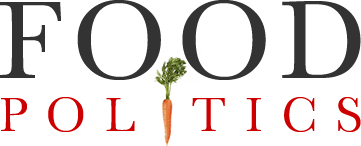 by Marion Nestle
Who knew? III. Corn-plus-soybean share of US crop acreage
Here's my third Who Knew post of the week, this one an at-a-glance explanation of what's wrong with the US food system, courtesy of FarmDocDaily.
In 1980 or so, corn and soybeans comprised about 20% each of total crop acreage.  Now it's 30% each.
To bring this point home:
Recall that more than 40% of US corn is used to feed animals and another more than 40% is used to make ethanol.
Monoculture, anyone?  Lack of biodiversity?  Greenhouse gas emissions?  A focus on feed and fuel, not food?
Time to rethink the food system!