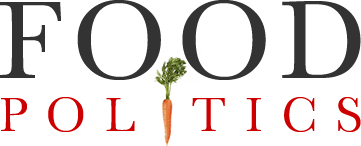 by Marion Nestle
The Obama's garden: happy news!
By this time everyone in the world must know that the Obama's are planting a vegetable garden at the White House.  Today's New York Times not only covered it, but on the front page yet.  Planting a garden is front-page news? Indeed it is.  What strikes me most about the reports is how excited everyone at the White House is about it.  The staff can't wait to start planting and picking.
In the meantime, Slow Food and friends are in Atlanta talking to the CDC about the importance of agriculture to food, nutrition, and health, especially as it bears on school food.  This also could be a great sign.
And if you care what else the Obama's are doing about food, check out Obama Foodorama, where bloggers cover what gets cooked, what gets eaten, and what's important about food in deep, daily detail.
March 21 update: Another photo of the Obama garden project appears on the front page of today's New York Times along with a lauditory editorial (this really is big news), and Eating Liberally's kat has a comment on farming on 5th Avenue.