I am being honored by Living Liberally at the group's annual celebration.  Come celebrate with me!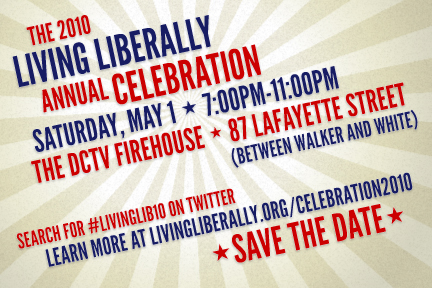 When: Saturday, May 1st – 7-11pm
Where: The DCTV Firehouse, 87 Lafayette St, between Walker & White, in lower Manhattan
How: Get tickets here.
What Living Liberally is about:
For the past 7 years, Living Liberally has been creating progressive social communities across the country. In New York, you've enjoyed happy hours, comedy shows, film screenings, forums, guest speakers and so much more.

Around the country, people need this type of liberal network more than ever. As we hear about the Tea Baggers in the news, many of us ask,  "Where is OUR Tea Party?"

Well, the fact is there are liberals in over 300 cities that are drinking something stiffer than weak tea. Drinking Liberally chapters are often the first stop for candidates trying to reach progressive audiences and for local advocates looking to recruit for their campaigns.

In some cities, it's the only event that welcomes "liberals," providing a necessary destination for those who want to create a more progressive future for our country. The Liberally team is only able to create this network with your support. Each year, the Annual Celebration gathers allies, honors partners and pulls in the necessary resources for the work ahead.

This year, we'll be honoring the Service Employees International Union, a great ally to the progressive grassroots; and Dr. Marion Nestle, a food policy activist who helps us all Eat and Live Liberally.

At the event, we'll also enjoy great sustainable food from Eating Liberally, toast with an open bar and celebrate in terrific political company.