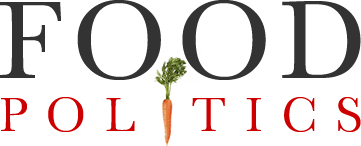 by Marion Nestle
Do the food safety bills apply to pet foods?
A comment by Sophie on my post about the food safety bills needs an immediate response to set the record straight.  She says:
It's my understanding that this [bill] excludes pet food manufacturers….our pets were the canaries in the coal mine in the 2007 pet food recalls; they helped bring huge awareness to the food safety issue especially when baby formula was tainted with the same melamine problem that pet food was…but yet our pets get left out of the food safety bill?  Something isn't right here…
On this point, not to worry.  H.R. 2749 most definitely does include pet foods.  Here, for example, is Section 101 (C)(i):
The term 'retail food establishment' means an establishment that, as its primary function, sells food products (including those food products that it manufactures, processes, packs, or holds) directly to consumers (including by Internet or mail order).
'(ii) Such term includes–
'(I) grocery stores;
'(II) convenience stores;
'(III) vending machine locations; and
'(IV) stores that sell bagged feed, pet food, and feed ingredients or additives over-the-counter directly to consumers and final purchasers for their own personal animals [my emphasis].
All sections of the bill, including recall authority, apply to  pet foods and animal feed, as well as to human foods.  As another example, see Section 420 (c):
Order to Cease Distribution- If the Secretary has reason to believe that the use or consumption of, or exposure to, an article of food may cause serious adverse health consequences or death to humans or animals, the Secretary shall have the authority to issue an order requiring any person who distributes such article to immediately cease distribution of such article [my emphasis again].
In this sense, the bill recognizes that we have only one (global) food supply and that this one (global) food supply feeds people, pets, and farm animals alike.