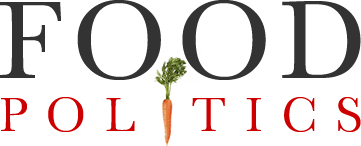 by Marion Nestle
Eating Liberally: Are pets responsible for climate change?
It's been quite a while since Eating Liberally's kat had a question for me, but this one certainly got my attention.  My book about pet food with Malden Nesheim, Feed Your Pet Right, has just progressed past its second set of page-proof corrections and is slowly making its way to publication on May 11.  Here's her question:
Submitted by KAT on Tue, 12/22/2009 – 8:13am.
(With a click of her mouse, EatingLiberally's kat corners Dr. Marion Nestle, NYU professor of nutrition and author of Pet Food Politics, What to Eat and Food Politics.
Kat: Dog lovers are howling over a new book called Time to Eat the Dog: The Real Guide to Sustainable Living. The book claims that "the carbon pawprint of a pet dog is more than double that of a gas-guzzling sports utility vehicle," according to a report from the Agence France Presse.
The book's authors, Robert and Brenda Vale, sustainable living experts at Victoria University in Wellington, New Zealand, estimate that a medium-sized dog's annual diet–about 360 pounds of meat and 200 pounds of grains–requires roughly double the resources it would take to drive an SUV 6,200 miles a year.
You've become an expert on the pet food industry in recent years with Pet Food Politics: The Chihuahua in the Coal Mine, and your upcoming book, Feed Your Pet Right. So, what's your take on the Vales' claims? Is Fido really the new Hummer?
Dr. Nestle: Since Mal Nesheim is my co-conspirator on Feed Your Pet Right, this response is from both of us. Hence, "we."
We ordered this book through Amazon in the U.K. but it is taking its own sweet time getting here. So all we really know about what these authors say is what we read in the October 24 New Scientist, which not only reviewed the book (in an article titled, "How green is your pet") but also ran an editorial that begins, "If you really want to make a sacrifice to sustainability, consider ditching your pet – its ecological footprint will shock you."
Oh, please. We don't think so for two reasons, one quantitative, one qualitative. First, the quantitative:
The New Scientist review says:
To measure the ecological paw, claw and fin-prints of the family pet, the Vales analysed the ingredients of common brands of pet food. They calculated, for example, that a medium-sized dog would consume 90 grams of meat and 156 grams of cereals daily in its recommended 300-gram portion of dried dog food. At its pre-dried weight, that equates to 450 grams of fresh meat and 260 grams of cereal. That means that over the course of a year, Fido wolfs down about 164 kilograms of meat and 95 kilograms of cereals.
We don't really have all the facts at hand. We have not seen the book, we don't know what assumptions the authors made, and we can't be certain that the review quotes the book accurately. Still, we are puzzled by these figures.
By our estimates, an average dog does indeed need about 300 grams of dry dog food a day; this much provides close to 1,000 calories. Fresh meat supplies about 2 calories per gram, so 450 grams would yield about 900 calories. Cereals have less water so they are more caloric; they provide nearly 4 calories per gram. The 260 grams of cereals would provide nearly 1,000 calories. If New Scientist got it right, the authors of the book are overestimating the amount of food needed by dogs by a factor of two.
On the qualitative side: Most dogs don't eat the same meat humans do. They eat meat by-products—the parts of food animals that we wouldn't dream of eating. These are organs, intestines, scraps, cuttings, and other disgusting-to-humans animal parts.
We think pet food performs a huge public service. If pets didn't eat all that stuff, we would have to find a means of getting rid of it: landfills, burning, fertilizer, or converting it to fuel, all of which have serious environmental consequences. If dogs and cats ate the same food we do, we estimate that just on the basis of calories, the 172 million dogs and cats in American would consume as much food as 42 million people.
But they don't. They eat the by-products of human food production. If we want to do something to help reverse climate change, we should be worrying much more about the amount of meat that we ourselves are eating–and the amount of cereals we are growing to feed food animals–than blaming house pets for a problem that we created.