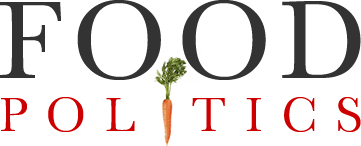 by Marion Nestle
Corporate social responsibility: real or oxymoron?
Food corporations are pushing corporate social responsibility (CSR) as hard as they can.  This seems like an oxymoron to me, but here's what they say:
CSR #1: Nestlé (no relation) says it is creating shared value by "optimizing water use and productivity, Italy."
In the Piacenza and Parma region of Italy, in recent years, water has become scarcer, especially during the summer. Nestlé Italia decided to engage more closely with its tomato suppliers, to secure its supply of tomatoes and significantly reduce the amount of fresh water used for irrigation.

The three-year project with Consorzio Interregionale Ortofrutticoli, a cooperative of tomato farmers, aims to maximise tomato production and optimise irrigation in 10 pilot farms with differing soil conditions, by using solar-powered CropSense Soil Moisture Monitoring technology. Data at root level is collected daily and used to provide the exact amount of water needed to optimise crop revenue and water use.

Data collection will continue into 2011, and additional farmers are already keen to join the project based on the initial results: yields have nearly doubled, the tomato quality (sugar content) increased by 15% and the water used to produce one tonne of tomatoes fell by 45%.
Watch Nestlé's film: Optimising water use and productivity, Italy
Read more in Nestlé's report, Creating Shared Value
Anti-CSR: For an antidote, try Corporate Accountability International's campaign called "Think Outside the Bottle," and watch the video of Annie Leonard's Story of Bottled Water.
CSR #2: FoodNavigator has a new collection of commentaries on CSR: