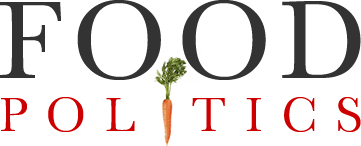 by Marion Nestle
More about imaginative food marketing
The Pop-Tarts store in Times Square (see yesterday's post) is only the loudest example of innovative food marketing to come out recently.  I've been collecting more subtle examples:
Using social media (and getting customers to pay for it): For 99 cents to I-tunes, you can buy an app that gives nutritional information for products at Jack-in-the-Box or at McDonald's.   As Mark Douglas of Culinate explains: "They want $0.99 to tell you what you probably already know… Watch Out!"
Co-opting health professionals: Michele Simon (author of Appetite for Profit) writes on AlterNet about how PepsiCo hires distinguished health professionals and experts to give a company that sells snack foods and soft drinks an aura of health and wellness.
Co-opting professional organizations: Lisa Young (the Portion Teller) points me to a Webinar on August 25 run by the industry-sponsored School Nutrition Foundation and the Milk Processor Education Program on what is surely an urgent issue for sellers of chocolate (sugar-added) milk: "Keep flavored milk from dropping out of school!"
Deflecting attention from diet: Lisa sends another Webinar notice for September 14, this one for "skills & tools to enhance change in physical activity behavior."  Its sponsor?
The Coca-Cola Company's Beverage Institute For Health & Wellness is a Continuing Professional Education (CPE) Accredited Provider with the Commission on Dietetic Registration (CDR) – provider number BF001.
Plain, old-fashioned lobbying: Food Safety News has a nifty report on food company lobbying expenditures (huge), mainly on the food safety bill but also on many other bills that might affect labeling or sales of food products.
I reviewed these methods in my book, Food Politics. A revised edition came out in 2007.  Not much change, alas.
Addition: Attracting school kids: Michele Simon sends this Pepsi partnership with Hy-Vee stores in Iowa.  Parents buy five Pepsi products; Pepsi buys backpacks for their kids.