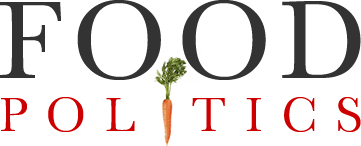 by Marion Nestle
Baby food politics: Should WIC pay more for "Functional" foods?
Laurie True, who directs California's WIC Association ( WIC is the Special Supplemental Nutrition Program for Women, Infants and Children), writes in The Hill about the latest efforts of infant formula company lobbyists to extract more money for their products.
WIC, for the uninitiated, provides formula and foods to low-income mothers of small children.    But unlike Food Stamps, it is not an entitlement.  Eligible families cannot enroll in WIC if the program does not have enough money to pay for the food.
Despite ample research demonstrating the effectiveness of this program in improving the nutritional status of participants, only about half of eligible mothers and children are able to enroll.
Any increase in the cost of infant formula means that even fewer eligible mothers will be able to participate.
At issue is a provision of the Childhood Nutrition Reauthorization Act thrown out when the Senate passed the bill last August.
The dropped provision called for USDA, which manages WIC, to make a scientific decision about whether WIC should offer foods that contain new "functional ingredients" like omega-3s, antioxidants, and probiotics.  These are increasingly being added to infant formula, baby food, and other foods that WIC buys.  They cost more.  But do the ingredients really make kids healthier?
To say the least, the science is highly conflicted and most studies show little evidence of demonstrable benefit.
WIC buys 60% of U.S. infant formula, so formula makers are eager to jack up the price.  USDA's studies say that functional ingredients cost WIC upwards $90 million annually.  Formula makers are spending a fortune to make sure that these ingredients get no scientific scrutiny.
Call this baby food politics, but it matters.