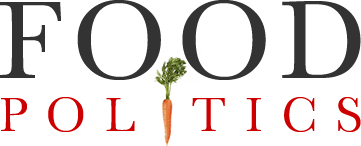 by Marion Nestle
Are processed "junk" foods in trouble?
So many readers have sent me the link to the Chicago Tribune story about efforts of packaged food producers to make their products look healthy that I thought I had best say something about it.
The article lists the large number of companies that are "healthifying" their products:
PepsiCo: Combining Tropicana, Quaker Oats and dairy; low-sodium salt.
Walmart: Cutting trans fat and sodium in its Great Value products; encouraging major brands to make healthier products.
Kraft:  Adding fruit to Lunchables and more whole grain to Wheat Thins.
Nestlé (no relation): Making small changes so consumers won't feel deprived.
Campbell's:  Trying to reduce sodium in soup, promoting liquid vegetables through its V8 brand and whole grains with Pepperidge Farm.
Starbucks: Offering sweets with 200 or fewer calories.
And Pepsi, says the Wall Street Journal, is converting most of its products—but not Doritos or Cheetos—to all-natural ingredients.  Doritos and Cheetos, in case you wondered, are:
harder to retool and are marketed to teens and other consumers who might be turned off if told the chips were all natural.  As well, going all natural risks highlighting the artificial ingredients that were in the chips before.
What's going on here?  Processed food makers must be in trouble.  "Healthy" and "natural" are the only things selling these days.
But isn't a "healthy" processed snack food an oxymoron?  They can tweak and tweak the contents, but these products will still be heavily processed.
Too much evidence now concludes that marketing a product as "healthy" or "natural" makes people think it has no calories.
And as I keep saying, just because a processed food is a little bit less bad than it used to be, doesn't necessarily make it a good choice.