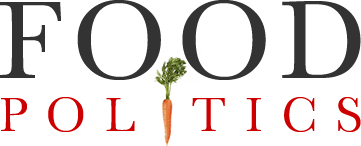 by Marion Nestle
Let's Ask Marion: Does Factory Farming Have a Future?
This is one of a series of occasional Q and A's from Eating Liberally's Kerry Trueman.
Submitted by KAT on Wed, 04/13/2011 – 9:12am.
(With a click of her mouse, EatingLiberally's kat, aka Kerry Trueman, corners Dr. Marion Nestle, NYU professor of nutrition and author of Pet Food Politics, What to Eat and Food Politics🙂
KAT: We talk a lot about the factory farms that provide most of our meat, poultry, eggs, and dairy products, but most Americans have no idea what really goes on inside a CAFO, or Concentrated Animal Feeding Operation.
You, however, saw a number of these fetid facilities firsthand when you served on the Pew Commission on Industrial Farm Animal Production a couple of years ago. And industrial livestock production's role in degrading our environment, undermining our health, abusing animals and exploiting workers in the name of efficiency has been well-documented, most recently in Dan Imhoff's massive, and massively disturbing, coffee table book CAFO: The Tragedy of Industrial Animal Factories.
Given all the problems inherent in industrial livestock production, do you see a future for factory farming?
Dr. Nestle: I do not think factory farming is going away. Most people like meat and want to eat it, and do so the minute they get enough money to buy it.
I think a more realistic question is this: Can factory farming be done better? The interesting thing about the Pew Commission's investigations was that we were taken to factory farms where people were trying to do things right, or at least better. Even so, it was mind-boggling to see an egg facility that gave whole new meaning to the term "free range." And these eggs were organic, yet. The hens were not caged, but there were thousands of them all over each other. This place did a fabulous job of composting waste and the place did not smell bad. But it did not in any way resemble anyone's fantasy of chickens scratching around in the dirt.
Factory farming raises issues about its effects on the animals, the environment, the local communities, and food safety. As someone invested in public health and food safety, I care about all of those. The effects on the animals are obvious, and those will never go away no matter how well everything else is done.
But the everything else could be done much, much better. The first big issue is animal waste. It stinks. It's potentially dangerous. Most communities have laws that forbid this level of waste accumulation, but the laws are not enforced, often because the communities are poor and disenfranchised.
The second is antibiotics, particularly the use of antibiotic drugs as growth promoters. This selects for antibiotic-resistant bacteria and is, to say the least, not a good idea.
The factory farming system could be greatly improved by forcing the farms to manage waste and restricting use of antibiotics. This will not solve the fundamental problems, but it will help.
I'm hoping that more environmentally friendly meat production will expand, and factory farming will contract. That would be better for public health in the short and long run.
NOTE: If you're in the NYC area, please join Eating Liberally and Kitchen Table Talks this Thursday, April 14th at NYU's Fales Library, 6:30 p.m. to hear Dr. Nestle, Dan Imhoff, and Pulitzer prize-winning New York Times investigative reporter Michael Moss address the question "What's the Matter with Mass-Produced Meat?" The discussion will be moderated by Paula Crossfield of Civil Eats. Event details here.