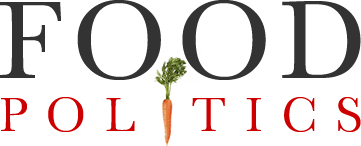 by Marion Nestle
Sugar politics in action: Sugar sues HFCS
Philip Brasher of the Des Moines Register reports: the Western Sugar Cooperative has just filed suit against the Corn Refiners and corn processors to stop them for falsely advertising HFCS as "corn sugar."
Oh please.  Western Sugar is trying to claim that HFCS is not sugar, when it most definitely is.  To sugar associations, which represent cane and beet producers, sugar means sucrose (the white stuff on the table).
When the Sugar Association threatened to sue me for saying that soft drinks had sugar and nothing else (when they also contained HFCS), I patiently explained the biochemistry.  If you would like to read what they said, I've posted the threatening letter and my response at the bottom of this link. Here's the biochemistry:

Sucrose: a double sugar of 50% glucose and 50% fructose linked together
HFCS: a syrup of about 45% glucose and 55% fructose, separated
The 5% differences are biologically insignificant and the body can't tell them apart.
I never heard from the Sugar Association again, but I try to to remember to say sugars, plural.
Whether the FDA should allow the defendants to change the name of HFCS to Corn Sugar is a matter of some debate (see previous posts and comments on them).  The FDA will make its decision in due course.
In the meantime, this lawsuit is about marketing competition among sources of sugars (plural).  It has nothing to do with health.