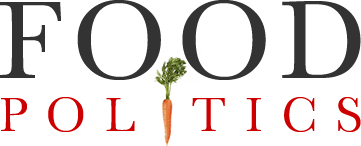 by Marion Nestle
Books about food politics: continued
A few more for summer reading pleasure and enlightenment (for others see previous post):
Poisoned, Jeff Benedict, Mariner 2011: I blurbed this one: "In telling the entwined stories of childhood victims of food poisoning and the lawyers [Bill Marler et al!] wrangling over just compensation, Poisoned is a fast-paced thriller, a riveting illustration of how the political—in this case, the inadequate food safety system—becomes personal."
The Sorcerer's Apprentices, Lisa Abend, Free Press, 2011. What is a book about the celebated Spanish restaurant El Bulli doing on a food politics list?  Abend is a terrific reporter who spent a year observing how the place runs: almost entirely on the labor of dozens of food professionals who gave up their real jobs to work for six months at a time as unpaid volunteers.   The cooks are essentially piece workers.  They never see or taste the final dishes served in the restaurant.
State of the World, 2011, Worldwatch Institute. The 2011 annual report focuses on "Innovations that nourish the planet"—anti-hunger and farming projects throughout the world that are successfully improving the health of people and the planet.  Read and be inspired!
Tomatoland, Barry Estabrook, Andrews McMeel, 2011. This book is a welcome expansion of Estabrook's stunning, prize-winning article in Gourmet.   Estabrook writes a compelling account of the injustices and social costs of industrial tomato farming to farm workers and to the environment.  We could and should do better, and Estabrook explains how.  Tomatoland scored a rave review in the New York Times, most deservedly.
…And for the under 2 set:
Rah, Rah, Radishes: A Vegetable Chant, April Pulley Sayre, Beach Lane, 2011:  It comes with gorgeous photographs of vegetables and could be fun to read to little kids:
Oh boy,

Bok choy!

Brussels sprout.

Broccoli, cauliflower.

Shout it out!