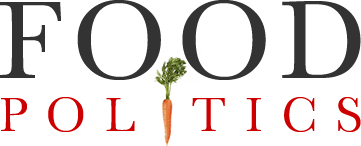 by Marion Nestle
United Nations to consider the effects of food marketing on chronic disease
In what Bloomberg News terms an "epidemic battle," food companies are doing everything they can to prevent the United Nations from issuing a statement that says anything about how food marketing promotes obesity and related chronic diseases.
The U.N. General Assembly meets in New York on September 19 and 20 to develop a global response to the obesity-related increase in non-communicable, chronic diseases (cancer, cardiovascular disease, respiratory disease, type 2 diabetes) now experienced by both rich and poor countries throughout the world.
As the Bloomberg account explains,
Company officials join political leaders and health groups to come up with a plan to reverse the rising tide of non- communicable diseases….On the table are proposals to fight obesity, cut tobacco and alcohol use and expand access to lifesaving drugs in an effort to tackle unhealthy diets and lifestyles that drive three of every five deaths worldwide. At stake for the makers of snacks, drinks, cigarettes and drugs is a market with combined sales of more than $2 trillion worldwide last year.
Commenting on the collaboration of food companies in this effort:
"It's kind of like letting Dracula advise on blood bank security," said Jorge Alday, associate director of policy with World Lung Foundation, which lobbies for tobacco control.
The lobbying, to understate the matter, is intense.  On one side are food corporations with a heavy financial stake in selling products in developing countries.  Derek Yach, for example, a senior executive of PepsiCo, argues in the British Medical Journal that it's too simplistic to recommend nutritional changes to reduce chronic disease risk.  [Of course it is, but surely cutting down on fast food, junk food, and sodas ought to be a good first step?]
On the other side are public health advocates concerned about conflicts of interest in the World Health Organization.  So is the United Nations' special rapporteur for  the right to food, Olivier De Schutter.  Mr. De Schutter writes that the "chance to crack down on bad diets must not be missed."
On the basis of several investigative visits to developing countries,  De Schutter calls for "the adoption of a host of initiatives, such as taxing unhealthy products and regulating harmful food marketing practices…Voluntary guidelines are not enough. World leaders must not bow to industry pressure."
If we are serious about tackling the rise of cancer and heart disease, we need to make ambitious, binding commitments to tackle one of the root causes – the food that we eat.

The World Health Organization's (WHO) 2004 Global Strategy on Diet, Physical Activity and Health must be translated into concrete action: it is unacceptable that when lives are at stake, we go no further than soft, promotional measures that ultimately rely on consumer choice, without addressing the supply side of the food chain.

It is crucial for world leaders to counter food industry efforts to sell unbalanced processed products and ready-to-serve meals too rich in trans fats and saturated fats, salt and sugars. Food advertising is proven to have a strong impact on children, and must be strictly regulated in order to avoid the development of bad eating habits early in life.

A comprehensive strategy on combating bad diets should also address the farm policies which make some types of food more available than others…Currently, agricultural policies encourage the production of grains, rich in carbohydrates but relatively poor in micronutrients, at the expense of the production of fruits and vegetables.

We need to question how subsidies are targeted and improve access to markets for the most nutritious foods.…The public health consequences are dramatic, and they affect disproportionately those with the lowest incomes.
In 2004, the U.N. caved in to pressures from food companies and weakened its guidelines and recommendations.  The health situation is worse now and affects people in developing as well as industrialized countries.  Let's hope the General Assembly puts health above politics this time.