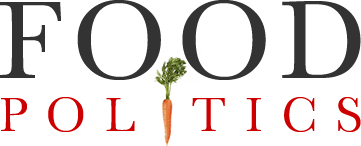 by Marion Nestle
Of course pizza is a vegetable: Mark Russell commentary
From comedian Mark Russell*
No dessert until you finish your tomato paste.
The push to limit pizza in school lunch programs has been derailed in Congress by members who classify tomato paste as a vegetable. Who says this is a do-nothing Congress?
Their true quote: "An eighth of a cup of tomato paste has the nutritional value of a half-cup of vegetables and when mixed with water for pizza sauce, more of a vegetable is created."
Right. And when you add cheese, pepperoni and sausage — voila! — you have a healthy fruit salad.
* c/o Tribune Media Services, 2225 Kenmore Ave., Suite 114, Buffalo, NY 14207.