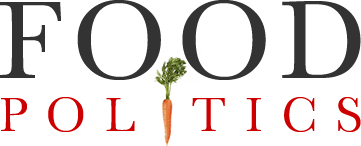 by Marion Nestle
What's with the problems with powdered infant formula?
Mead Johnson Nutrition says it has tested additional samples of its Enfamil baby formula and still does not find the bacteria responsible for the death of one newborn infant and the illness of another.
The bacteria at fault are Cronobacter sakazakii, formerly known as Enterobacter sakazakii (bacterial taxonomists proposed this reclassification in 2007).
Last week several retailers pulled Enfamil infant formula from their shelves because of fears that Enfamil was contaminated with this organism.
Walmart was the first to issue a recall.
The retailers actions were unusually cautious.  Neither Mead Johnson nor federal investigators had evidence that the formula caused the illnesses.  Federal agencies had not asked for a recall.
But the retailers must have connected the dots:
The most likely source of C. sakazakii is powdered infant formula.
The two infants ill with C. sakazakii were fed Enfamil powdered formula (although the second ill infant drank several kinds of formulas).
In the chapter on infant feeding in my book, What to Eat, I noted that the main difference between one kind of infant formula and another is its cost.  Powdered formula is much cheaper than the already reconstituted kinds.  I asked:
Beyond the difference in cost, does it matter which level of convenience you choose?

It might.   Powdered formulas are not sterile.  In this, they differ from concentrate and ready-to-serve formulas, which have been heated to sterilize them.

In 2002, the FDA warned pediatricians that powdered milk formulas could be contaminated with Enterobacter sakazakii, a type of bacteria that causes rare but terrible and sometimes fatal infections in infants, especially those who are premature, weak, or in hospitals.

The FDA says it is not aware of any E. sakazakii infections in healthy full-term infants in home settings.

Reports from other countries, however, suggest that even healthy babies may sometimes acquire such infections [see Kwan Kew Lai, "Enterobacter sakazakii infections among neonates, infants, children, and adults: case reports and a review of the literatur,"(see:  Medicine, Vol. 80, pp. 113-122, March 2001.]
In 2001, the CDC published a case report on this type of infection.  It pointed out that "…in 50-80 % of cases, powdered infant formula is both the vehicle and the source (direct or indirect) of E. sakazakii-induced illness."
The CDC's conclusion:
Clinicians should be aware of the potential risk for infection from use of nonsterile enteral formula in the neonatal health-care setting.
The World Health Organization has a Q and A:
3. How does infant formula get contaminated with Enterobacter sakazakii? Can other foods also be contaminated?

Basically there are three routes by which Enterobacter sakazakii can enter infant formula:

a) through the raw material used for producing the formula;

b) through contamination of the formula or other dry ingredients after pasteurization; and

c) through contamination of the formula as it is being reconstituted by the caregiver just prior to

feeding.

Enterobacter sakazakii has been detected in other types of food, but only powdered infant formula has been linked to outbreaks of disease.
So the recalls were precautionary.  It's hard to argue with that—unless you are a stockholder; Mead Johnson stocks declined by 5% as a result.
At the moment, the source of these particular C. sakazakii infections is unknown.  Let's give the retailers credit for taking precautions to protect the public.
As for infant feeding in general: Breastfeeding is best, of course.  If you are using formulas to feed your infant, the liquid ones are safer—but much more expensive.