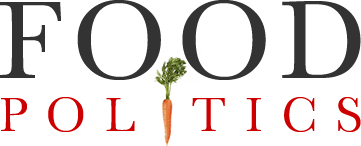 by Marion Nestle
Tuna scrape: a case study in international food safety
My Q and A column in the San Francisco Chronicle appears on the first Sunday of every month.  This one is about safety problems with tuna scrape.
Q: I had no idea that the tuna in my sushi roll was scraped off the bones in India, ground up, frozen, and shipped to California. Is this another "slime" product? Can I eat it raw?
A: No sooner did the furor over lean, finely textured beef (a.k.a. "pink slime") die down than we have another one over sushi tuna. On April 13, the Food and Drug Administration said Moon Marine USA, an importing company based in Cupertino, was voluntarily recalling 30 tons of frozen raw ground yellowfin tuna, packaged as Nakaochi scrape.
Centers for Disease Control and Prevention investigations linked consumption of Nakaochi scrape sushi to about 250 diagnosed cases and an estimated 6,000 or so undiagnosed cases of illness caused by two rare strains of salmonella. Among the victims who were interviewed, more than 80 percent said they ate spicy tuna sushi rolls purchased in grocery stores or restaurants.
Scrape refers to the meat left on fish skeletons after the filets are cut off. This is perfectly good fish, but difficult to get at. I once visited an Alaskan salmon packing plant and asked what happened to the delicious looking meat between the bones. The answer: pet food. (Lucky cats.)
A hot commodity
But tuna is too valuable to leave behind, and companies in India use special devices to scoop out the meat, combine it with scrapings from many other fish, chop the mixture, freeze it in blocks, and ship it to importers in the United States. Unlike "pink slime," tuna scrape is not treated with ammonia or anything else to kill harmful bacteria.
Nevertheless, it is supposed to be safe. The FDA requires producers of imported foods to follow established safety plans. Although the United States imports about 80 percent of seafood sold domestically, the FDA only inspects 1 or 2 percent.
This means we have to rely on the diligence of international food producers in following safe-handling procedures, and of U.S. importers in verifying safety through pathogen testing. But even well-intentioned producers can make safety errors, especially when dealing with high-risk foods.
Tuna scrape is very high risk. Its supply chain is long, complicated and international, leaving many opportunities for contamination. And it is eaten raw.
This tuna scrape came from a single processing plant in India owned by Moon Marine International of Taiwan. Tuna are plentiful off the Indian coast, and the tuna processing industry is expanding rapidly. India has dozens, perhaps hundreds, of fish processing facilities, but most are relatively small and their number, size and geographical dispersion make monitoring difficult.
Safe handling issues
The frozen scrape blocks are supposed to be held at subzero temperatures throughout shipping. Even so, they pose a safety risk. They combine the scrapings from many fish. One contaminated scraping can contaminate the entire lot.
And subzero freezing may kill some salmonella, but large fractions can survive, remain viable, and multiply when the blocks are thawed.
Once the tuna scrape arrived in America, I'm guessing it was trucked to Cupertino and from there to retailers and distributors who further trucked them to restaurants and grocery stores. There, sushi chefs thawed the scrape and used it to make spicy tuna rolls.
Tuna scrape is used in supermarket-grade sushi, not the fancy stuff. Sushi used to be – and still is, in places – an art form requiring exceptional skills. In Japan, sushi chefs can train for as many as 10 years to learn how to recognize the freshest, safest and most delicious fish. Sushi served by such chefs is made to order. It is never pre-prepared. It can be breathtakingly expensive.
But in America, sushi has gone mainstream. You can find prepackaged sushi rolls at practically any supermarket or convenience store, at a cost equivalent to hamburger.
Cheap sushi is made with cheap ingredients – hence, Nakaochi scrape – by chefs with far less training. A typical certification program for sushi chefs in this country can be completed in two or three months. Some offer certification online. Although these programs address safe food-handling procedures, the training is necessarily superficial.
What are the odds?
Sushi aficionados argue that while raw fish is never perfectly safe, the safety odds are much better when the chef is well trained, and the fish are freshly caught and cut to order in front of you. By their standards, tuna scrape is suitable only for pet food, which is at least cooked to kill pathogens.
If anything, the tuna scrape outbreak teaches why it is so important to know where food comes from and how it is made. Caveat emptor.
Nutrition and public policy expert Marion Nestle answers readers' questions in this monthly column written exclusively for The Chronicle. E-mail your questions to food@sfchronicle.com, with "Marion Nestle" in the subject line.
Addition, May 14:  Bill Marler reports that the FDA "483 Inspection Report" on the Indian tuna processing facility is now available.  Here are excerpts from the most revealing section:
Tanks used for storage of process waters have apparent visible debris, filth and microbiological contamination…There is no laboratory analysis for water used in ice manufacturing at the [redacted] facility to show the water used to make ice is potable…Apparent bird feces were observed on the ice manufacturing equipment at Moon Fishery; insects and filth were observed in and on the equipment…Tuna processed at your facility, which is consumed raw or cooked, comes in direct contact with water and ice.